Camping chairs don't need to compromise on comfort for better practicality. Unfortunately, to find comfortable and practical camping chairs can be time consuming.
That's why we've researched for the best camping chairs that sit well with campers. We reached out for recommendations from campers for their favorite picks.
This means you can sit back and relax in any of these chairs in as much comfort as your sofa at home, all while being immersed in nature. You wouldn't want to miss out on that, trust us – we've been there!
---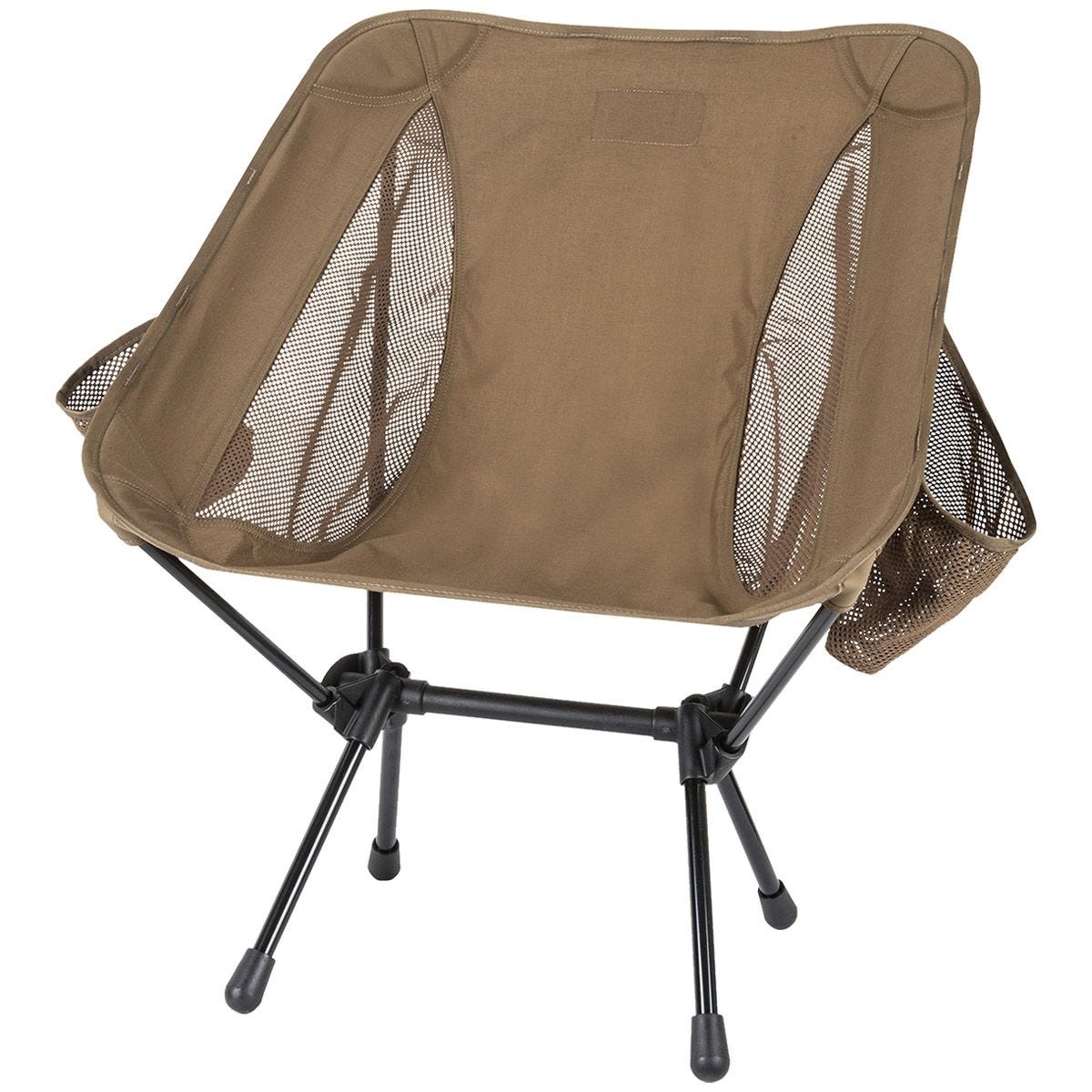 This product was recommended by Lukas from Military 1st
Lightweight Helikon Range Chair is constructed of robust 500D Cordura and aluminium and supports weight up to 150kg. It features mesh panels for enhanced breathability and two side mesh pockets, which are handy for storing a water bottle or items you need at hand. Comfortable even after extended use, it is very steady and can stand on various types of terrains. Easy to assemble and compact when folded, Helikon Range Chair can be attached to most backpacks so is perfect for camping enthusiasts.
---
This product was recommended by Simon Hansen from Home Brew Advice
The Coleman Portable is made out of polyester, which is fully equipped with a fully-cushioned seat, mesh cup holder, and side pocket making it one of the lightest and most convenient seats around.
---
This product was recommended by Liz Brown from Sleeping Lucid
This folding chair comes with armrest, cup holder and a carrying and storage bag making it the perfect choice for travelers who want to unwind in the best way possible.
---
This product was recommended by Alexander Knobloch from UberBows
If you´re looking for a sturdy and powder-coated steel frame chair, the ALPS Mountaineering King Kong Chair should be your first pick! The included shoulder carry bag allows for convenient transport and storage. Adjustable armrests, each with a cup holder, plus the side pockets add massively to the comfort. As soon as you take a seat, you instantly know why this camping chair is surely one of the best ones out there. Available in four different colors (from deep-sea to salsa). Weight capacity 800 lbs.
---
This product was recommended by Timothy Carlson from Hike the Planet!
The Crazy Creek Hex 2.0 Powerlounger is the ultimate chair for hikers, campers, and backpackers. It is lightweight, and very comfortable. The Hex 2.0 Powerlounger can be deployed anywhere, creating an instant seat while out on the trail. When done, simply fold it up, and stow it away. The Crazy Creek Hex 2.0 is easily attached to a backpack, or stashed near all of your other camping gear. If you're out backpacking, the Hex 2.0 Powerlounger can double as a lightweight sleeping pad, eliminating extra weight in your pack.
---
This product was recommended by Dale Shetler from Fishing Refined
I've been using this one for around 6 months now and it's comfortable beyond belief. It almost beats the couch at home, haha. It's adjustable and features a thicker material, yielding better overall comfort. It's common to get a backache when sitting in the same position for a long time, so the fact that the backrest can be repositioned in four angles is a game-changer for the long days out in the wild. Best of all, it has a fishing rod holder so I don't have to bring any external holders for that.
---
This product was recommended by Jonathan Holmes from Crow Survival
Camping and a cold beer go hand in hand, at least in my opinion. This makes the Coleman perfect, with it's 4-can cooler able to keep drinks cool for a couple of hours at least. If you're not a beer drinker, then it works equally well with soft drinks or snacks. Besides its ability to keep drinks cool, there's a lot to like about the Coleman. Its build quality is excellent, so while it's perhaps not the cheapest chare out there, it should pretty much outlast any cheaper alternative. I've had one since 2011 and it's still going strong. It's also light enough to be considered fairly portable, but it's not something I would take hiking, as it's a little on the larger side when folded up. For use around a campsite, it's perfect. Comfort is top-notch and it remains comfortable even after extended periods. My wife and I argue about who gets to use, which is a testament to its popularity.
---
This product was recommended by David Adler from The Travel Secret
This chair by ALPS Mountaineering will stand up to anything you throw at it with ease. It is incredibly strong, sturdy, and durable, holding up to 800 pounds. The result of this is that it is a bit bulky and on the heavier side, but if you don't mind that, this is the chair for all of your camping needs. It even sports two cup holders, and three additional pockets for your book, sunscreen, drinks, and anything else you may need.
---
This product was recommended by Mike Bran from ThrillAppeal
This polyester camping chair with 42 inches of seating space makes sitting comfortable for couples while camping. This lightweight chair – 15 Ibs is easy to handle and can bear 500 Ibs. Insulated beverage holders are present to place your drinks or snacks. Sturdy and durable steel frames would keep you away from awkward surprises on your trip.
---
This product was recommended by Melanie Musson from LAInsuranceQuotes
It's amazing that a chair this comfortable and durable only weighs 3.3 pounds. It packs down small enough to bring backpacking and it's great for car camping, too. The high back design is perfect for relaxing around the campfire.