These are the backpacks that we know you'll love if you are an avid hiker. There is a backpack that perfectly suits every type of hiker on this list – so your new backpack is only a few clicks away.
This product was recommended by Lukas from Military 1st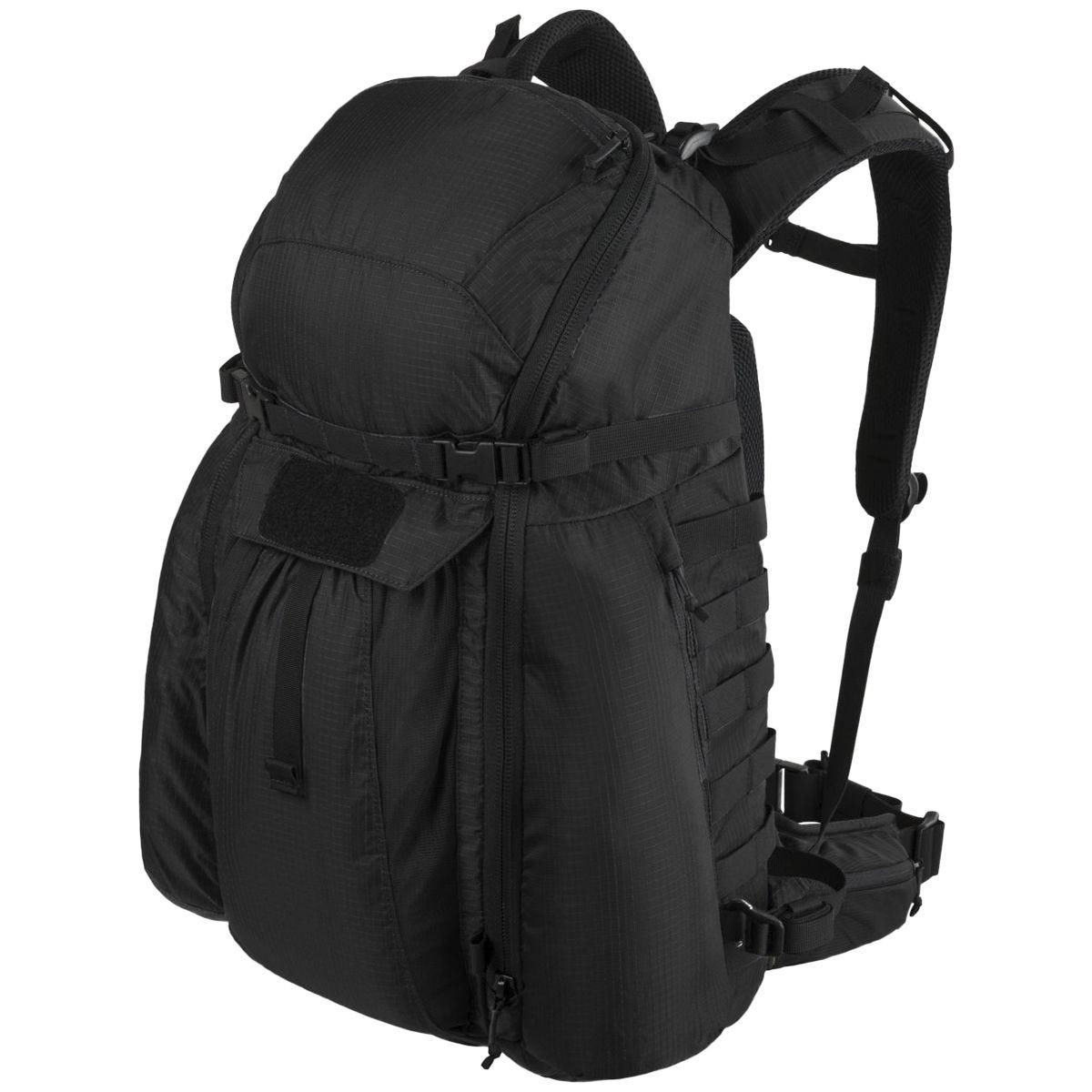 Helikon Elevation is a lightweight, all-purpose backpack, with approx. 35L capacity and a spacious main compartment with quick-access clamshell zip opening, hydration bladder pouch and a set of organiser pockets inside. On the outside, there is a large elastic pocket at the front, slim zippered pockets on each side and secure top pocket for glasses, smartphone and other small accessories. There are also handy pockets at the waist belt. Moreover, side MOLLE panels and elasticated loops allow attachment of additional accessories. The backpack has adjustable, profiled shoulder straps with sternum strap, waist belt with a detachable webbing strap, and generously padded back covered with mesh for enhanced breathability. All this makes Helikon Elevation an ideal choice for all sort of outdoor activities like hiking or trekking.
---
This product was recommended by Philip Weiss from PhilipWeiss
I love this backpack because it's eco-friendly, durable and most importantly – lightweight. It comes equipped with a 7-watt removable waterproof lightweight solar panel while maintaining the classic backpack look and feel. You can charge any smartphones, tablets and any 5V device to the 10,000 mAh battery. The lightweight nylon build allows you to keep devices of up to 14 inches safely inside. ECEEN's solar backpack is also spacious and has multiple internal pockets for storing clothes, accessories, food and anything else you can think of to fill its 36L capacity. I like that it's lightweight for its size, which is ideal for keeping your devices charged when spending time outdoors, hiking and traveling. The entire backpack, including the solar panel, weighs just under 2 lbs making it very light for its size and capabilities.
---
This product was recommended by Milos Djordjevic from SaveMyCent
I usually take day hikes for which I need a day pack – not a huge, but not small backpack either. Lowe Alpine Aeon 27 is technical, and lightweight which is the primary feature I look for. It has side pockets for bottles, a spacious lid pocket, side access, walking poles attachments, and it's overall a super comfortable backpack for a day hike.
---
This product was recommended by Jens Madsen from HeatXperts
Hiking Backpack 60L Lightweight Water Resistant Trekking Bag this backpack comes with a weight of only 1.0kg making it ultralight and very convenient for hiking. Besides, the bag will keep you dry due to the airflow even after a long hiking period. Thanks to its breathability and flexible straps. Space matters a lot in hiking bags due to the need of carrying a bunch of stuff including cameras. For that reason, this bag is made with one large main pocket and other relatively small pockets all over its body to cater for storage needs. I highly recommend this bag due to its durability, flexibility, and versatility (its water-resistant ability).
---
This product was recommended by Daniel Lysogorsky from IPL Port
Very comfortable backpack that allows a bit of ventilation and good overall fit. Easily can store a sleeping bag, cloths, stove, camping equipment, tent and various other survival items with room to spare. This backpack has enough capacity for a few days and is easy on the back in terms of weight. Would highly recommend for those looking for a nice looking solid build and airflow on the back.
---
This product was recommended by Donovan Gow from House and Tool
CamelBak Fourteener 24 which comes with a built-in 3 liter hydration bladder, plenty for even longer hikes. CamelBak is one of the of the original companies focused on hydration packs and it shows. The bladder is easy to fill and clean and doesn't leave that nasty plastic taste in your water like many competitors. Also the bite valve gives you plenty of flow and doesn't leak. Outside of the hydration bladder, the overall pack construction is excellent and has lasted me many hundreds of hours of hiking without any tears, rips, or fraying. Finally, the pack is well designed with side pockets on the hip wing belt which are easy to access, a stretch top pocket for storing jackets or other bulk items, and a side loop to attach your hiking poles. Overall, it's well designed with excellent construction, all at a reasonable price.
---
This product was recommended by Keith Myers from TheHempire
I loved the overall execution of features on this pack: stretchy mesh stuff-it pocket, roomy hip pockets, removable top-lid, breathable back-panel, long front access zipper, compression straps with clipping buckles, this thing has it all. It's ideal in both weight and weight-capacity. Being so light helps keep the base weight down, but because it has such a strong suspension, it can still comfortably carry a few extra pounds when you need it to. They keep things simple and to the point using the lightest and most durable fabrics possible.
---
This product was recommended by Keith Myers from TheHempire
The Deuter Aircontact Lite 65 + 10 is a workhorse of a pack that's ideal for trekking and expedition class trips. It has an adjustable torso length for hikers who want a comfortable frame, with good storage options to keep you organized. The Aircontact Lite also comes with two ice ax loops at the bottom of the pack that can serve double duty as trekking pole holders. But the most impressive thing about the Deuter Aircontact Lite 65 + 10 is that it only weighs 4 lbs 6 oz, which is quite lightweight for a pack that can carry 50 pounds with ease. It gives a great feeling when worn.
---
This product was recommended by Keith Myers from TheHempire
Built from tough, wear-resistant fabric. The AirZone Trek 45:55 provides a supportive and comfortable carry, however intense the hike. It features award-winning, fully adjustable AirZone+ ventilated carry system, with patented FormKnit™ technology for all-day comfort. AirZone Trek 45:55 hiking backpack is full of trail-friendly features including stretch mesh side pockets for water bottle; a front mesh stash for jacket or map; upper and lower compression straps; and walking pole. Along with an integrated rain cover is the perfect waterproof, helping you to use and go in rainy weather.
---
This product was recommended by Tim Bigknee from SightsAndInsights
The North Face Gnomad Pack is a fantastic backpack for hiking. It has a lot of space for any items you'd want to bring with you. The top latch is great for protecting your items from storms and in-climate weather. The padded back is comparable to wear for extended periods of time. The shoulder straps are also well padded to make it an ideal backpack for hiking.
---
This product was recommended by Craig Condy from Escape Scout
Drawstring opening allows for more compartment space.- Airspace comfort back liner allows for airflow between you and the pack.- Complete 3-way adjustable straps- Side compression straps- Breathable and ergonomic harness- Waist support- Concealed compartment for 3 litre reservoir- MORE than enough pockets for all your items- Daisy chains for hanging external items- Tool attachment straps- Mesh Shove-it pockets on back and sides- Removable Rain Cover The size, quality and versatility of this bag means you'll only ever need one bag for everything.Go anywhere, Take anything.
---