These coats get our seal of approval as the best hiking coats out there. Whatever weather conditions you need to deal with there is a coat for you below in this list, so take a look.
This product was recommended by Lukas from Military 1st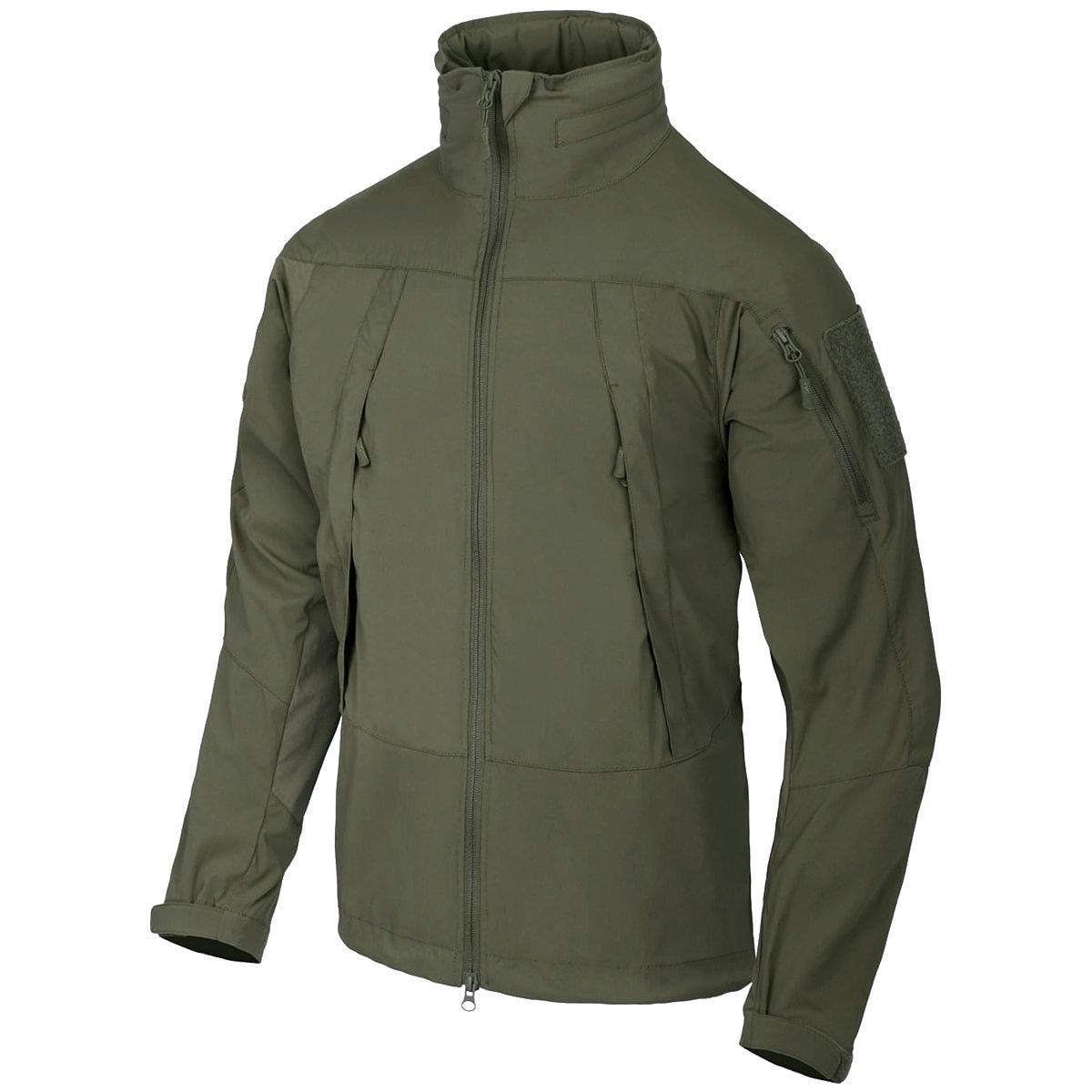 Helikon Blizzard Jacket is a lightweight, breathable and versatile outdoor jacket made of StormStretch fabric with DWR coating to protect you from light rain and wind when out and about. It has a stowable, adjustable hood with visor hidden inside the collar, 2-way front YKK zipper with chin guard and weather-resistant flap, and adjustable bottom hem and cuffs offering personalized fit and comprehensive protection from the elements. There are also zippered ventilation slots at each armpit with additional mesh, providing extra air circulation if it gets too warm. Moreover, the jacket comes with two large chest pockets with inner organizer sleeves, and small pockets on each sleeve, ideal for ID cards, wallets or credit cards.
---
This product was recommended by Alex from Help I'm Having Twins
One of the best hiking coats you can buy is the Marmot Minimalist Jacket. This is a waterproof jacket while also helping keep you protected from the wind on those wet and windy days. The Marmot Minimalist Jacket comes in a range of colours from Black through to bright yellow and is a must for anyone that's serious about hiking!
---
This product was recommended by Hasan from Film Jackets
If you're going on an icy hiking trip, then this puffer hooded jacket is your perfect solution. Offer the best insulation to the wearer in the cold winter.
---
This product was recommended by Tim Bigknee from SightsAndInsights
The Carhartt Dry Harbor Jacket is the ideal coat for hiking. It's waterproof but still breathable so your sweat can escape so you won't overheat while wearing it. It's a coat that is meant to be worked in and designed for someone on the move. Its lightweight waterproof design makes it an ideal coat for hiking.
---
This product was recommended by Elle Meager from Outdoor Happens
Although this jacket is mainly marketed as a men's jacket, the size small fits me as a woman very well. The main things I need in a hiking jacket are lots of pockets and protection against the elements. I also really like them to be MOLLE compatible so I can hang my gear on it, like a knife and water bottle. This jacket has the most pockets of any jackets I've ever seen and they're a good size too. There are so many pockets, you barely need a hiking pack! It's super warm and made from military-grade material, so if you get whacked by a branch, you won't feel it. It even has elbow pads which is great for birdwatching and things like that, where you lean on your elbows. My only gripe with it is the lack of color choices. You can choose black and only black.
---
This product was recommended by Noman Asghar from Fan Jackets
Amazing jacket for hikers because this jacket is made from high quality water repellent fabric that provide greater warmth and wind blocking material keeps you save in stormy weather. Also provided with multiple pockets and hood to ensure maximum comfort.
---
This product was recommended by D. Gilson from StudentCarInsurance
I love REI's 650 down jacket because it's water resistant, lightweight, and fits easily into a pack if a jacket becomes unnecessary while hiking or camping. Plus, REI offers great sales and guarantees for its in-house products, especially.
---
This product was recommended by Julian Goldie from JulianGoldie
The coat's outer is composed of 70% cotton, 30% nylon, and inner is made up of 100% Polyester. Additionally, it features water-resistant fabric that makes it comfortable for hiking. Unlike ordinary coats, it has an aesthetically pleasing look, which makes it perfect for a family or other social trips. It covers the body fully till quarter-thighs because of having 0.7" high and 14" wide dimensions. Moreover, the zipper is present to cope up with body temperature. Furthermore, the presence of sherpa insulated lining keeps the person comfortably warm in cold temperatures.
---
This product was recommended by Noah James from NativeCompass
It is a 3-in-1 jacket with ergonomics design. The jacket has a soft fitted inner lining for the comfort and soft touch, giving excellent breathability. It is durable, and users can wear the inner lining outside. The waterproof fabric of the jacket is much like a raincoat and can bear a 7500mm pressure head. The Teflon material used in the fabric obstructs the air intrusion making it windproof. The hand pockets zipped to secure hiker's things, and the pockets also have fixture holes for earphones inside. The jacket is best for heavy fog, rainy or snowy days, and is perfect for hiking, skiing, and snowboarding.
---
This product was recommended by Noah James from NativeCompass
It's a best water repellent coat with fuzzy lining and durable fabric. The jacket can work under and over 10,000mm pressure head and keeps your body dry and warm. There are adjustable hooks and loops, fastener cuffs, and stretchable gloves. Wind resistance like the snap skirt, internal drawcord hem, and detachable storm hoods help in keeping the wind out. The jacket has multi-pockets with two hand pockets, one on the chest, one big internal mesh, and a secure media pocket. Fastening and supporting fixtures are available inside the jacket for earphone lines. The coat comes in standard sizes and is best for downhill skiing, snowboarding, snow sports, hiking, rock climbing, and skydiving.
---